MORPHEUS8 RF MICRONEEDLING
Morpheus8 is minimally invasive fractional skin treatment that stimulates collagen production of the underlying layers of the dermis. By targeting the deeper layers of the skin tissues of the face and body can be remodeled to reveal a more radiant, youthful appearance.
MORPHEUS8's facial treatments contour and improve the appearance of the face and neck to more defined facial characteristics and a younger, brighter appearance. During treatment, deep fractional, radio-frequency energy is delivered to remodel skin, fat and tissue, as well as address signs of aging, irregularities and pigmentation.
The most in-demand zones include the eye area, forehead, cheeks, mouth (smile lines), jowls and neck. InMode's facial contouring solutions provide visible, natural results to the face and neck. Additionally, there are some areas of the body, such as the jowls and neck, which do not tighten with exercise, but can become loose and contribute to an aged appearance.
TREATMENT TYPE
Skin Tightening
WHAT MORPHEUS8 RADIO FREQUENCY (RF) MICRONEEDLING TREATS
Acne and Surgical Scars
Uneven or Abnormal Textures
Stretch Marks
Cellulite
Décolletage Rejuvenation
Facial Lines & Wrinkles
Enlarged Pores
Skin Tightening
Sagging Skin
BENEFITS
Minimally invasive
Minimal downtime
Long-term results
Can be used on all skin types and tones
Far less expensive than surgery
COMPLEMENTARY TREATMENT
Exosomes
NUMBER OF TREATMENTS NEEDED
Varies
What happens at your MORPHEUS8 appointment?
At Enhance Aesthetics patient comfort is one of our top priorities. We'll discuss all your options during your initial consultation and talk through what you should expect with each treatment. During your Morpheus8 facial/body contouring appointment, we'll apply a mild topical anesthetic, which will help numb the surface of your skin, so all you feel is a light pressure when we use the microneedling device.
After your appointment, you may experience some slight swelling or redness, but recovery from Morpheus8 is relatively quick. Compared to the downtime of surgery, which can last weeks at a minimum in most cases, you shouldn't experience any discomfort or adjustment to your normal routine for more than a few days.
Within a few weeks, your body will start producing more collagen and elastin in the treatment area, and you'll start experiencing the real benefits of Morpheus8. Your results should continue to improve for several months after your treatments. In general, we recommend several treatments scheduled about three to five weeks apart to achieve the optimal results for most patients.
MORPHEUS8 – FACE BEFORE/AFTER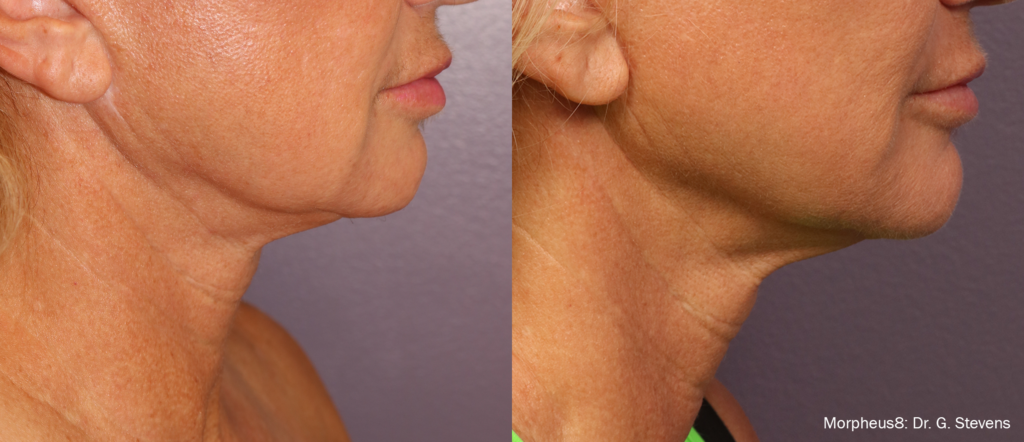 MORPHEUS8 – BODY BEFORE/AFTER